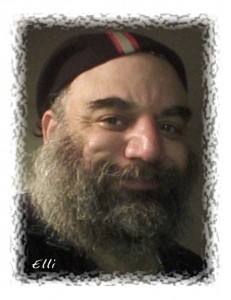 A truly unique performer, Elli has the combined talents of Zero Mostel, Nathan Lane and Danny Kaye, with the comedic timing of Robin Williams, and the voice of Pavarotti, rolled into one entertainer.
Elli began his Theatrical career in Los Angeles under the direction of the famous "That Little Old Wine Maker ME!", James Rawley, and J.R.'s best friend Lee Strassburg. Some of the many and varied roles he appeared in were, "Jud" in "Oklahoma", "The Tin Man" in the "Wizard of Oz", "Arab" in "West Side Story", "Charlie Davenport" in "Annie Get Your Gun", "Kralahome" in "The King and I", "Nicely Nicely" in "Guys & Dolls" and of course the part he was born to play but never has, "Tevye" in "Fiddler on the Roof". Elli has also done many 'straight' roles in such favorites as "Arsenic and Old Lace", "Julius Caesar", and "Up the Down Staircase", and of course, "Our Town" just to name a few. Elli's unique look, moldable image, plus the myriad of languages and accents he has, lends itself to the diverse roles that he can play.
For a while Elli changed directions and lived his childhood dream of becoming a Hassidic Orthodox Rabbi and a Cantor, leading religious services and teaching in Synagogues throughout the U.S and Canada. He is now reviving his dream of taking his place on "The Great White Way", by lending his rich, Multi-Accented and-Multi Charactered voice to several Children's Audio Tapes and Radio & TV commercials, both in the U.S. and England.
In November 2002, Elli appeared as featured background (a Hassidic Jew) in the film, "2 Fast 2 Furious" filmed on location in Miami, Florida. In April 2003, he worked as an extra in the Indy film, "Once Upon A Wedding" (now available on DVD) as a Barfly. In January, 2003 he performed the role of the "Papa" in "The Jazz Singer" which played South and Central Florida thru the end of January.
Currently working on his third "One Man Show", Elli has also become very popular and well known on the Florida, New York and California Karaoke circuits and is lovingly referred to as, "The King of Broadway". Since moving to NYC in April 2004, Elli has been seen in several commercials, a promo spot for VH1's Metal Month, as featured background in several movies and been on stage at Birdland in Times Square, the Duplex and Marie's Crisis in the Village, and onstage at the Triad doing his stand up comedy. Elli is currently in a pilot for Comedy Central and a Feature Film as well as a founding member of Improvodox, a Jewish Improv Group. In addition to his busy performing schedule, Elli now writes entertainment reviews for www.broadwaykingdom.com

Look for new and updated info about Elli at http://www.thekingofbroadway.com