Life

behind

the Wicked Stage
A review of Mind The Gap Theatre & YouBlinked Productions presentation of
PERFECTING THE KISS

At the NuBox Theater/John DeSotelle Studios
April 20, 2017
by Moshe Bloxenheim
Billed as a "Mocumentary for the Stage", Mr. Scott C. Sickles' excellent play PERFECTING THE KISS is a savagely hilarious show that finds its wit in the way very real and flawed personalities pursue their desires even when it clashes with how they present themselves and what they want to achieve.
Helen McMillan – the former Stage Manager of Harvest Carruthers' latest overwrought play – very bluntly begins by announcing that what we are about to see is a form of therapy. We are then taken back to the very first script reading of Harvest's play where we see director Edwina cheerfully welcoming the sensitive and word-proud author, the two actors Mike and Buck and kind of acknowledging Helen. It is soon very clear that Edwina has her own reasons for casting Mike in this show and Mike is not exactly thrilled with either her motives or the show itself. Mike is also disconcerted by Buck's rather overblown first reading which does not quite mesh with his own low-key style of rehearsing. But Harvest seems more and more fascinated by Buck even as he begins to change his sacred texts… and so it continues.
Mr. Sickles lets his situations evolve into farce in a way that is every bit as sidesplitting as it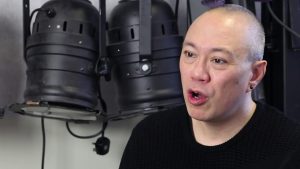 is realistic. This is theater: an industry where everyone acts on what they think they have heard and seen and are all too willing to take each other at face value. So actions and reactions pile up in a believable comedy of manners that works on multiple levels – firstly as a really funny show where people have to work together even while pursuing each other in a sort of mad Mobius strip of desire. Then there is the added treat of evil recognition for anyone who has been to one too many play readings or rehearsals of a certain offbeat theatrical type.
The cast is wonderfully directed by Ms. Paula D'Alessandris, who clearly understands that the characters of PERFECTING THE KISS are not mere theatrical stereotypes hyped up for a laugh, and that the reality of these people make the show even funnier. If there is any exaggeration it is all in the realm of possibility so that we can really feel Helen's anguish even when we laugh at the ludicrousness of it all.
Ms. Helen McMillan is brilliant as the alternately pestered and ignored Stage Manager Helen McMillan (Yes, that is the name of both actress and character). As the Cinderella who blows up the Ball just as her fairy coach arrives, Ms. McMillan's understated recollection of the egos and issues of the people involved absurdly heightens her sense of walking on emotional whoopee cushions. She is truly an actress who knows how wield a wry brief comment and isn't afraid to use it.
As Harvest Carruthers, the playwright, Mr. Hugo Trebels presents one of those sensitive creative types who cannot easily write a simple sentence if several pages of dialogue can suffice. Of course every one of his written words is sacrosanct and woe betides the people who cannot read his mind: he wants to uplift the audience's intellect. Mr. Trebels never misses a trick, whether Harvest is being outraged by the honesty of a person who truly admires him, flattered by one of his actors or taking out his frustration in his scripts revisions.
Harvest's director Edwina O'Halloran is another prize piece of work. She is intent on keeping Harvest happy, while trying to make his play more presentable. But besides the many concerns involved with the show, Edwina wants actor Mike Porter to be in love with her and cannot appreciate the fact that Mike is gay. This all leads to some fascinating mind games which Ms. Janette Johnston's superb Edwina plays with great skill.
Mr. George Redner gives a fine tuned performance as Mike Porter, one of the two actors in Harvest's play. Though he may not show it initially, Mike is one of those actors who will put everything he has into doing a good job – no matter what he thinks of the material and in spite of having to cope with Edwina's maneuverings.
The other actor, Jonah 'Buck' Jackson is played with a delightful Gee Whiz charm by Mr. Patrick Harman. 'Buck' may seem innocent enough but he knows what to do when he needs to, even if he apparently has no idea how much Harvest is attracted to him. In addition, Messrs. Harman and Redner's work as two actors of VERY different styles and their interactions in rehearsals are some of the comic highlights of PERFECTING THE KISS. Both gentlemen are truly believable in their offstage and onstage moments.
Naturally kudos must be given to Ms. Judith Feingold as the actual Stage Manager for helping PERFECTING THE KISS move forward convincingly with only lighting, sound and minimal sets.
 PERFECTING THE KISS is a truly funny show that I cannot recommend highly enough. Alas, it has just ended its limited run and I can only finish by wishing that it soon be brought back onstage again.
CAST & CREATIVES
PATRICK HARMAN – Jonah "Buck" Jackson
JANETTE JOHNSTON – Edwina O'Halloran
HELEN MCMILLAN – Narrator
GEORGE REDNER – Mike Porter
HUGO TREBELS – Harvest Carruthers
Directed by PAULA D'ALESSANDRIS
Written by SCOTT C SICKLES
About the reviewer:
MOSHE BLOXENHEIM
I am a computer programmer, wannabe writer who loves theater and just got into the habit of inflicting my theatrical opinions.
I live in New York. Moshe can be reached at MB1224@aol.com
###########
* * * * * * * * * * * * * * * * * * * * * * * * * * * * * * * * * Brought to you by the NEW
www.broadwaykingdom.com
For more info on Elli -- The King of Broadway
www.thekingofbroadway.com
Facebook
|
Twitter
|
IMdB
|
Actors Access
For more interviews & reviews go to
www.broadwaykingdom.com
* * * * * * * * * * * * * * * * * * * * * * * * * * * * * * * * *