A

Star

is Reborn

 
A review of

the Cabaret
MULLIGAN & MOORE, VEGAS '55
At the Metropolitan Room
June 22, 2017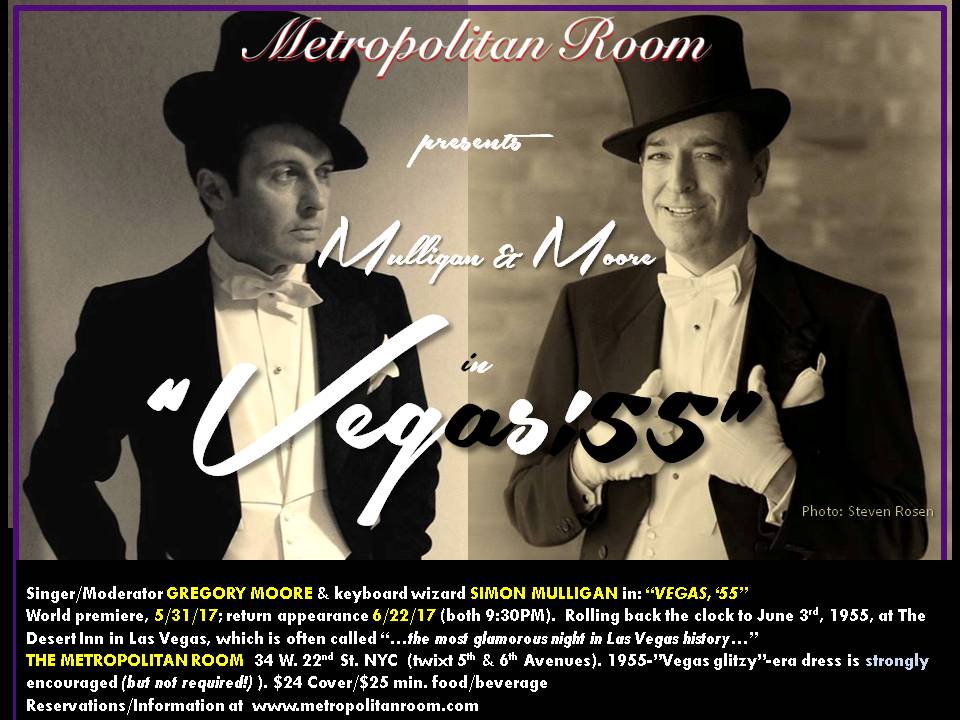 Before his 1969 knighthood and achieving his legendary status in the entertainment world, Sir Noël Coward found his position as the leading British playwright and actor threatened by postwar changes in the English theatrical establishment of the early 1950's. Turning to the cabaret stage, Sir Noël found a more welcoming venue that led to his famous 1955 turn at the Desert Inn in Las Vegas Strip.
Singer Gregory Moore and Pianist Simon Mulligan could have easily offered up an entertaining time by simply delivering the material from that famous performance, but instead — from Mr. Frank Sinatra's attendance of the opening night show to Noël Coward's appreciation of American audiences – MULLIGAN & MOORE, VEGAS '55, captures the anticipation, surprise and relief that were all a part of Sir Noël Coward's famously successful performance and its notable aftermath. While most of the evening is devoted to The Master we are also treated to Mr. Moore's enjoyable summoning up of Mr. Sinatra with "Luck Be a Lady Tonight" which begins a very interesting and often amusing discussion of Mr. Sinatra's personal and career woes and leads to his need to offer support to his friend Sir Noël by not merely taking seats at the Desert Inn but flying in the largest and most glittering group of celebrities to ever cheer a cabaret act on its first night.
Though Mr. Simon Mulligan does not supply anecdotes nor lyrics, his superb piano playing supplies both a marvelous accompaniment and at intervals takes center stage with some wonderful solo performances. These musically relate to Mr. Moore's narrative as well, such as the lushly atmospheric "Brazil," Mr. Mulligan's tribute to pianist Carmen Cavallaro which neatly sets off "Nina" Sir Noël's riposte to Mr. Cole Porter's tropical "Begin the Beguine". In fact, though the evening seems to enjoyably go from anecdote to song to observation, it is a discreetly managed flow that sometimes focuses on one point briefly and then spends more time entertaining the audience with more detailed revelations on another matter: such as Sir Noël Coward's willingness to make some modifications of his material for American tastes, but not when it led to foolish censorship.
As a singer, Mr. Gregory Moore does Sir Noël Coward proud. It is not merely that he knows how to deliver songs like "Bar on the Piccola Marina" but Mr. Moore relishes the wit and humor in the piece and shares that delight with his audience, never missing a laugh. This is not only limited Sir Noël's songbook; Mr. Moore's dapper style works very well with numbers by Mr. Frank Loesser or Messrs. Harold Arlen and Ira Gershwin. Indeed, the only criticism I might offer Mr. Moore has to do with his microphone placement which tends to hide the lower part of his face from the audience.
Even if you know the numbers or have heard the anecdotes elsewhere, Messrs. Mulligan and Moore make it all sound new and share in the delight Sir Noël Coward himself must have felt on that 1955 evening in Las Vegas when he had the audience eating out of his hand.
MULLIGAN & MOORE, VEGAS '55 was last performed at the Metropolitan Room on June 22, 2017

###########
About the reviewer:

MOSHE BLOXENHEIM
I am a computer programmer, wannabe writer who loves theater and just got into the habit of inflicting my theatrical opinions.
I live in New York. Moshe can be reached at MB1224@aol.com
###########
* * * * * * * * * * * * * * * * * * * * * * * * * * * * * * * * * Brought to you by the NEW
www.broadwaykingdom.com
For more info on Elli -- The King of Broadway
www.thekingofbroadway.com
Facebook
|
Twitter
|
IMdB
|
Actors Access
For more interviews & reviews go to
www.broadwaykingdom.com
* * * * * * * * * * * * * * * * * * * * * * * * * * * * * * * * *