REVIEW: WELL-STRUNG at the ART HOUSE, Provincetown MA 7:30pm August 20, 2013
It has been said that the era of the boy band is well past its prime and while that well may be so the newest boy band to hit the scene completely breaks the mold.
WELL-STRUNG, a modern take on neoclassical music, now playing to packed houses at the Art House in Provincetown Massachusetts, may well
redefine what a boy band is.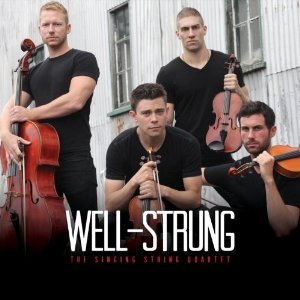 The strikingly handsome string quartet is made up of Edmund Bagnell (first violin), Christopher Marchant (second violin), Trevor Wadleigh (viola) and Daniel Shevlin (cello). But don't let their good looks, muscles and boyish smiles fool you. These young men are exceptionally talented, well rehearsed professionals, devoted to performing beautiful music.
WELL-STRUNG is brilliantly directed by Donna Drake who daringly defies tradition with a non-traditional String Quartet staging. The audience is treated to thrilling new musical arrangements by David Levinson who gives us imaginative and creative semi-classical versions of current pop songs woven seamlessly into the immortal classics. Combine that with stirring stories of each young man's journey and how they got here, we almost feel gypped that the show runs a mere 55 minutes, it most definitely could have been at least 90.
These are some extremely talented young men, I urge you to rush out and see them as soon as you can. You won't be sorry.
Please look in the VIDEO INTERVIEWS SECTION for an upcoming live interview!
Written by Donna Drake, Mark Cortale. Additional Material written by Jeffery Roberson. Arrangements by David Levinson. Additional arrangements by Daniel Shevlin & Christopher Marchant.
WELL-STRUNG is now extended thru September 12, 2013 at 7:30 PM
The Art House
214 Commercial
Provincetown, MA 02657
CLICK HERE for tickets
For more info:
www.well-strung.com
https://www.facebook.com/wellstrungnyc
https://twitter.com/wellstrungnyc
*****************************************************************************
The evening's set list was:
WOLFGANG AMADEUS MOZART – Serenade in G Major aka A Little Night Music,
1st Movement
Mash-up with: KELLY CLARKSON – Since You Been Gone
BRITTNEY SPEARS – Toxic
THIRD EYE BLIND – SEMI-CHARMED LIFE
TAYLOR SWIFT- WE ARE NEVER EVER GETTING BACK TOGETHER
JESSIE J. – WHO YOU ARE
JOHANN SEBASTIAN BACH – Prelude from Cello Suite #1
CARLOS GARDEL – TANGO
PINK – Just Give Me A Reason
Antonín Leopold Dvořák – American Quartet, 4th Movement
LADY GAGA – Edge of Glory
KESHA – Your Love Is My Drug
VIVALDI – Summer – The Four Seasons
David Guetta's Titanium mash-up with Journey's Don't Stop Believin
*****************************************************************************************
Mark Cortale is the Producing Artistic Director of The Art House. In his inaugural season in 2011, he founded the Broadway @ The Art House series with Seth Rudetsky, which this summer of 2013 will present Broadway superstars Patti LuPone, Chita Rivera, Sutton Foster, Audra McDonald, Megan Hilty (of TV's "Smash"), Megan Mullally (of TV's "Will & Grace"), Christine Ebersole, Joanna Gleason, Sam Harris and Marilyn Maye in addition to other national-level music and comedy programming. He is currently producing Seth Rudetsky's new reality series and other Broadway-themed entertainment that can be seen at www.SethTV.com. He also co-wrote and produced Well-Strung's runs this past winter and fall at New York's Marjorie S. Deane Theater. Mark produced the feature film "Varla Jean and the Mushroomheads," which played the 2012 festival circuit with a screening at Frameline in San Francisco. Mark also premiered the Broadway @ series this season in New Orleans, in Australia with Megan Mullally, and on London's West End last month with Patti LuPone at Leicester Square Theater, and will debut as well in Santa Monica, CA in fall of 2013.
Well-Strung is sponsored by the Anchor Inn Beach House, Ptown Bikes, Mussel Beach and SethTV.com
* * * * * * * * * * * * * * * * * * * * * * * * * * * * * * * * * Brought to you by the NEW
www.broadwaykingdom.com
For more info on Elli -- The King of Broadway
www.thekingofbroadway.com
Facebook
|
Twitter
|
IMdB
|
Actors Access
For more interviews & reviews go to
www.broadwaykingdom.com
* * * * * * * * * * * * * * * * * * * * * * * * * * * * * * * * *