Small WORLD, isn't it?
A Review of Musicals in Mufti's concert production of
DEAR WORLD
At the York Theatre

by Moshe Bloxenheim 
Musicals in Mufti's concert production of DEAR WORLD is one of those lovingly staged productions that can beguile an audience into wondering why this show didn't work the first time? With a book based on Monsieur Jean Geraudoux's play THE MADWOMAN OF CHAILLOT and an often delightful score by Jerry Herman, DEAR WORLD relates how Countess Aurelia, Madwoman of Chaillot saves humanity from being overrun by the soulless seekers of money and power. In the Countess' adventure the audience is introduced to the characters who make up her world and those who threaten it.
The Prospector and the three corporate Presidents seek to destroy the Countess' beloved Paris for the lake of oil that they know is below the city.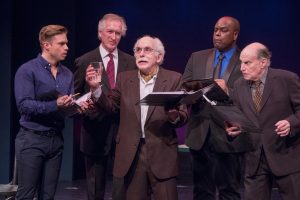 Mr. Gordon Stanley is a perfectly peevish Prospector who is driven by oil and cannot see any romance beside it. He fits perfectly in with the Presidents who are played with relish by Messrs. Stephen Mo Hanan, Peter Land and J. Bernard Calloway. All the gentlemen gleefully twirl a metaphysical villainous mustache with panache, bringing their best to their anthem of greed "Just A Little Bit More" and being merrily hissable in "The Spring of Next year" where they exult in the destruction of Paris.
The young executive Julian had been one of their crew until he realized that people would be hurt and Mr. Hunter Ryan Herdlicka manages to show this change of heart quite briefly and yet credibly. Indeed, under the Countess' idealistic spell Julian goes from accomplice to uncertain to penitent to hero and lover and the handsome Mr. Herdlicka accomplishes the changes with charm and ease, most memorably in a tender scene where Julian pretends to be Adolphe Bertaut – the man who had broken the Countess' heart many years in the past.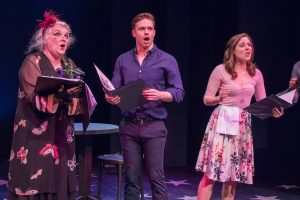 Nina is a waitress and general factotum at the Café Francis – the bistro where the Countess holds court and the place that the Prospector wants to destroy to start the oil drilling. Ms. Erika Henningsen makes a sweet and pretty Nina who clearly enjoys being a part of the Countess' world. We root for her Nina and Julian to fall in love with each other and cheer when Ms. Henningsen sings "I Never Said I Love You" (even with its inept positioning in the show).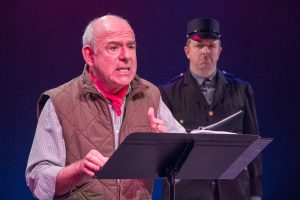 One of the Countess' aides and links from the harsh real world to her romantic existence is Mr. Lenny Wolpe's jovial Sewerman. From his number "Pretty Garbage" and onwards Mr. Wolpe creates a man who has his mind in the most delightful of gutters, giving cheerful denials about the outrageous world below that make it seem even more wonderful and fantastic. When the Sewerman gives a "sympathetic" defense of the rich in Act Two, Mr. Wolpe extracts some wonderfully timely comedy out of the moment.
It is a talent indeed to play a role without practically a word and Mr. Kristopher Thompson-Bolden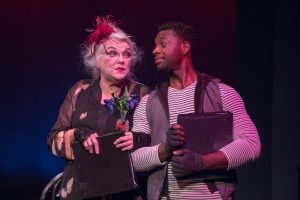 makes a beautiful Mute – the observer of all and assistant to the Countess. For a man who will not speak, Mr. Kristopher Thompson-Bolden's Mute is a real chatty soul and can even deliver a song with flair – allowing gesture and dance to supply the lyrics that are then picked up and sung by the other performers.
Other helpful men who brighten the stage are Mr. Dewey Caddell as the Police Sergeant and Ben Cherry who is the Waiter at the Café Francis.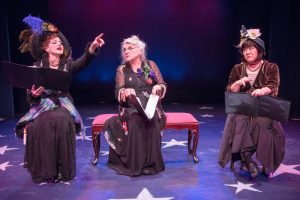 Two other Madwomen assist the Countess: Ms. Alison Fraser gives us a striking and memorable Madame Constance, Madwoman of the Market. She could have jauntily stepped out of an Edward Gorey drawing but her fancies are less gothic and more aurally and erotically absurd.
Adding to the fun, Ms. Ann Harada's superb Madmoiselle Gabrielle, Madwoman of Montmarte is relentlessly virginal and unsullied. Ms. Harada's character could simply be childish and a bore about her imaginary lap dog, Dickie, but Ms. Harada makes us see why the others would care for her and even makes us wonder if we aren't seeing the dog too, even though Mlle. Gabrielle then claims she hadn't brought Dickie after all.
Finally, the Doyenne of Madwomen: Countess Aurelia, Madwoman of Chaillot.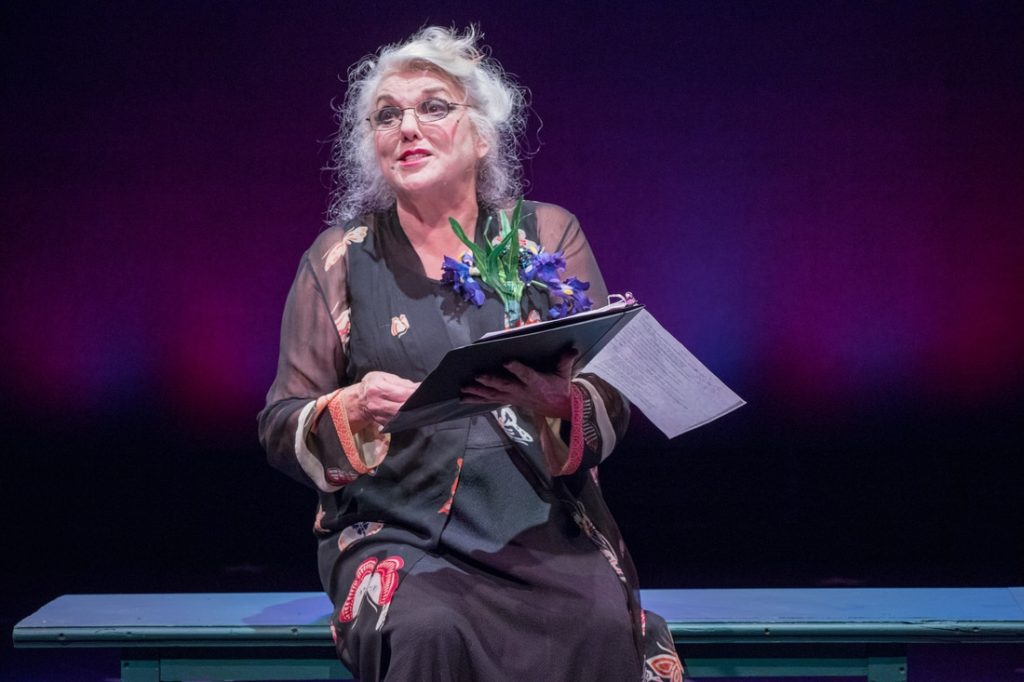 Ms. Tyne Daly gives a definitive performance as the sanest Madwoman there ever was, living in a romantic dream that must be cruelly interrupted to save the beauty of the real world. As a Madwoman, Ms. Daly sensibly gives her Countess the only French Accent in this stage Paris and often seems to have to refocus her fantasy driven mind. Musically, Ms. Daly does not sing her songs prettily but delivers them to brilliant effect, making them truly enchanting. The Countess' plea against reality "I Don't Want to Know" is downright heart-stirring as Ms. Daly performs it. Then again, the Madwoman's tea party in Act Two could easily become a scene stealing battle, but Ms. Daly is clearly at stage center joining in with Ms. Harada and Ms. Fraser in creating a wonderful piece of musical theater studded with comic gems. You want to hug and take care of Ms. Daly's Countess even while knowing full well that she is more than capable of taking care of you.
Mr. Michael Montel directs DEAR WORLD with the clear understanding that the more intimate this show is, the better it will work and makes the most of the small York Theatre Stage with its basic setting by Mr. James Morgan and lighting by Brian Nason. He does his best to make us forget some of the bumpier moments of the book and well evokes the fairy tale atmosphere of this whimsical story.
There have been times when I have been to a musical that sadly manages to evoke earlier recording of the show by its current shortcomings. Happily, this cannot be said of DEAR WORLD where Mr. Christopher McGovern's first-rate musical direction and piano playing – along with the fine bass and accordion skills of Mr. Louis Tucci – sound anything but spare.
Messrs. Jerome Lawrence and Robert E. Lee's original book for DEAR WORLD has been revised by Mr. David Thompson and he has made a noble effort of reworking and tightening the show, changing the song order, working with added material and introducing some numbers to better effect. While "Just a Little Bit More" is not my favorite number, it now gives a suitable way for our Villains to better define who they are and relocating "The Spring of Next Year" to Act Two gives these characters a number that lets them reestablish themselves to the audience as evil beings when they musically celebrate Paris' impending ruin. The Countess' "Kiss Her Now" has become a very satisfying moment, framing Julian and Nina's love towards the end of Act Two. Still, even the concert premise cannot really overcome the clumsy placement of Nina's lovely "I've Never Said I Love You" which suddenly erupts without rhyme or reason.
And then there is the Title Song.
Mr. Jerry Herman creates some unforgettable pieces: "I Don't Want To Know", "Each Tomorrow Morning", "Kiss Her Now", etc. – but the title song "Dear World" is one of those things that must be gotten through because it is a TITLE SONG. Messrs. Thompson and McGovern clearly have done their level best to make "Dear World" work as an anthem that will bring heart back to the protagonists but in spite of their efforts, it still feels like being beaten repeatedly between the eyes with a Hallmark Get Well card. One annoying aspect of the song is the fact that the people singing "Dear World" are the ones being forced save the world – it will not save itself like the song repeatedly insists. The song that immediately follows it, "One Person", is actually more to the point and moves things forward. Perhaps it is heretical, but I think the show would be much better if "Dear World" was totally rewritten with more suitable lyrics or even dropped altogether.
Still, even in its current condition, DEAR WORLD is well worth it – as a marvelous entertainment with a great cast and as an appropriate fable for these times. Even the flaws are intriguing and some of the more creative spectators may leave the theater both thrilled with what they have seen and contemplating what might be done do to overcome the imperfections.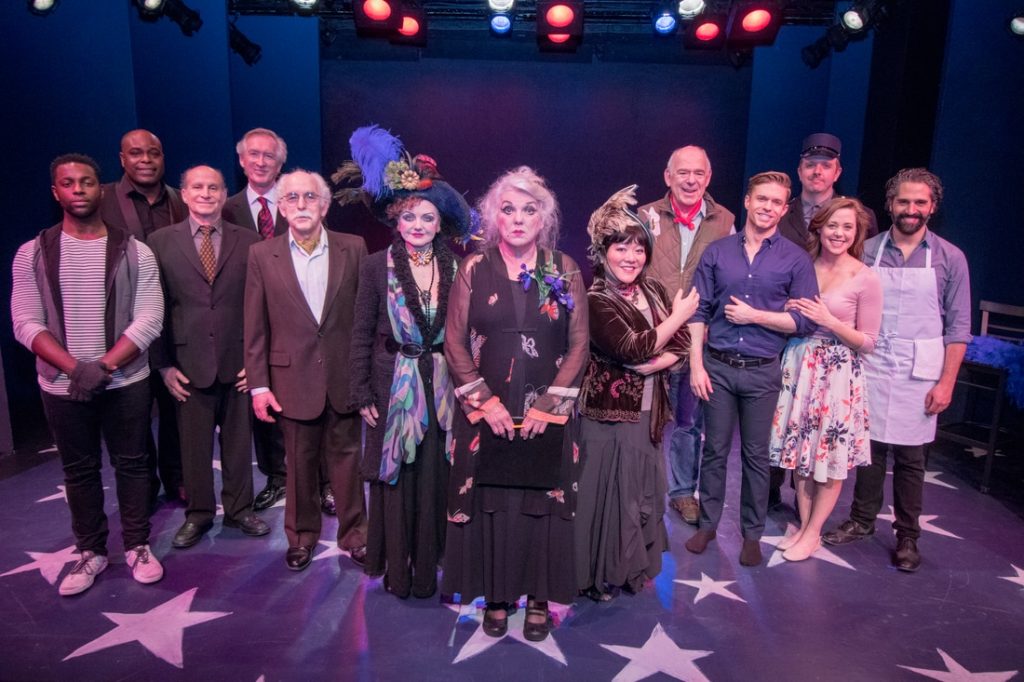 Alas, DEAR WORLD closed March 5.
About the reviewer:
MOSHE BLOXENHEIM
I am a computer programmer, wannabe writer who loves theater and just got into the habit of inflicting my theatrical opinions.
I live in New York. Moshe can be reached at MB1224@aol.com
###########
DEAR WORLD
Book by Jerome Lawrence and Robert E. Lee
New Version by David Thompson
Music and Lyrics by Jerry Herman
Based on The Madwoman of Chaillot by Jean Giraudoux as adapted by Maurice Valency
Directed by Michael Montel
Music Directed by Christopher McGovern
Featuring Tyne Daly
With Dewey Cadell, J. Bernard Calloway, Ben Cherry, Alison Fraser, Stephen Mo Hanan, Ann Harada, Erika Henningsen, Hunter Ryan Herdlicka, Peter Land, Gordon Stanley, Kristopher Thompson-Bolden, Lenny Wolpe 
* * * * * * * * * * * * * * * * * * * * * * * * * * * * * * * * * Brought to you by the NEW
www.broadwaykingdom.com
For more info on Elli -- The King of Broadway
www.thekingofbroadway.com
Facebook
|
Twitter
|
IMdB
|
Actors Access
For more interviews & reviews go to
www.broadwaykingdom.com
* * * * * * * * * * * * * * * * * * * * * * * * * * * * * * * * *