P R E C I O U S Little T A L E N T
BY ELLA HICKSON
DIRECTED BY GEORGE C. HESLIN
GREG MULLAVEY, CONNOR DELVES & ELIZA SHEA TO STAR IN NY PREMIERE OF "PRECIOUS LITTLE TALENT" DIRECTED BY GEORGE C. HESLIN.
FOLLOWING SUCCESSFUL PRODUCTIONS AT THE EDINBURGH FRINGE FESTIVAL AND IN LONDON'S WEST END, WHICH GARNERED FOUR STAR REVIEWS ACROSS THE BOARD, "PRECIOUS LITTLE TALENT" BY ELLA HICKSON IS PRESENTED IN A LIMITED ENGAGEMENT OFF-OFF-BROADWAY RUNNING SEPTEMBER 20-30.
The critically acclaimed British sensation, Precious Little Talent, will make its NY Premiere in a limited two-week engagement, beginning September 20.Award-winning playwright, Ella Hickson (Eight, Boys, Oil) marks herreturns to NYC, with this production directed by Origin Theatre Company's Artistic Director, George C. Heslin. The play starsAmerican film and TV legend, Greg Mullavey, whose credits include, Rumors (Broadway, with Veronica Hamel), Mary Hartman, Mary Hartman & iCarly.The play also starsConnor Delves(Endangered, Off-Broadway) and British actress, Eliza Shea(Blithe Spirit, Chenango River Theatre).
Taking place in New York City and London, between 2008-11, Precious Little Talent explores the culture clash of American optimism with British cynicism, and how a tangled love story sits somewhere in between. Hicksonpits the struggles of young peoplein the midst of an economic downturn, against those faced by an aging man, desperate to retain his independence whilst suffering from dementia.
 It plays 12 performances at The West End Theatre, 263 W86th St. 2nd Floor, New York, NY 10024, (1 train to 86th St.) from Wednesday September 20-30, with an official opening on Wednesday September 20 at 8pm.
Shea Delves Productions, in association with Co-Producer Joseph Lavezzo, present this NY premiere. The creative team includes Drama Desk Award-Winner,Maruti Evans (Set Design), Michael O'Connor (Lighting Design), Sam LaFrage (Sound Design), Jenny Green (Costume Design). Alaska Caleois the production stage manager. George C. Heslin, is the Artistic Director of Origin Theatre and founder of the 1st Irish Theatre Festival. Having worked extensively on Broadway and in the West End, Heslin was invited to meet President Obama in 2011, for his services to arts and culture.
 Critical acclaim in London includes:
'A little gem

…

it bursts with unmistakable freshness' (The Telegraph, 4 stars)

'Precious Little Talent' wins battle for hearts and minds' (The Daily Mail, 4 stars)

'Full of spluttering energy and has a real fire in its belly' (The Guardian, 4 stars)

'A rising star of British theatre, she has a gorgeous way with words' (The Independent, 4 stars)
…Precious Little Talent performs at The West End Theatre, 263 W 86th St. 2nd Floor. Performances (12 in total) are Tuesday,Wednesday, Thursday, Friday at 8pm; Saturday at 2pm & 8pm, and Sunday at 2pm.  
For tickets, which are $30, call 866-811-4111 or visit https://web.ovationtix.com/trs/cal/34943?sitePreference=normal
Please see www.PreciousLittleTalentNYC.com for further information.
(Running time: 80 minutes.)
……Sincerely,
Shea Delves Productions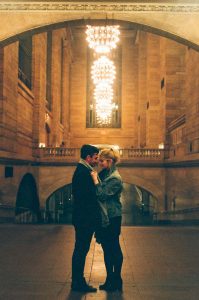 * * * * * * * * * * * * * * * * * * * * * * * * * * * * * * * * * Brought to you by the NEW
www.broadwaykingdom.com
For more info on Elli -- The King of Broadway
www.thekingofbroadway.com
Facebook
|
Twitter
|
IMdB
|
Actors Access
For more interviews & reviews go to
www.broadwaykingdom.com
* * * * * * * * * * * * * * * * * * * * * * * * * * * * * * * * *