Face Off
A review of

WAR PAINT

at the

Nederlander Theatre
by Moshe Bloxenheim

April 26, 2017

WAR PAINT is a glamorous show with a marvelous cast, stunning sets, stylish costumes and a really engrossing Second Act.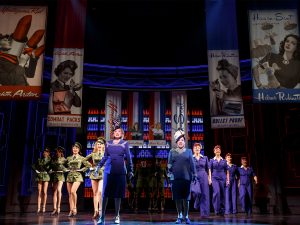 Act Two shows the competing heads of the cosmetics and beauty industry, Miss Elizabeth Arden and Madame Helena Rubinstein, having survived Governmental hearings and the Food and Drug Administration's investigations into their product lines. All seems bleak until the outbreak of war causes an increased demand for cosmetics and a need for technologies that are patriotically developed and supplied by both Mme. Rubinstein and Miss Arden's companies. The Postwar boom places the two ladies in what seem to be unassailable positions in the cosmetics market. After a few years, the business changes as new competitors seek out the youth market, use new forms of advertising and sell product lines that our heroines deem tasteless and shoddy. Miss Elizabeth Arden and Mme. Helena Rubinstein must then face being figures of the past with shrinking empires who cannot adapt because their pride and high standards will not let them come to terms with a rapidly changing trade and radically different concepts of beauty. The ladies must also live with the effects that their drive and determination have left on their personal lives.
There is much that is thoughtful and sympathetic this last act and the show delivers some fine moments of theater. Unfortunately to get to Act Two, one must sit through a First Act that tells much about the protagonists but can't quite figure out how to hook the audience.
Act One begins with Miss Elizabeth Arden approaching the height of her career as the socially approved supplier of cosmetics and beauty treatments. As her success increases,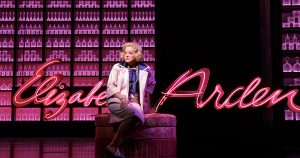 her husband and merchandising assistant Tommy Lewis chafes at the fact that he is his wife's subordinate and cannot be a public part of MISS Arden's success. To add to her worries, her competitor Madame Helena Rubinstein has returned from Europe and has repurchased the American wing of the firm she had sold off before the 1929 stock market crash. Mme. Rubinstein is zealously developing new products and treatments and her assistant Harry Fleming is eagerly providing new ideas to reestablish her cosmetics as a necessary luxury. Unfortunately he too is beginning to feel that his work is not being properly appreciated. Deep in the throes of competition new alliances are forged, relationships severed and the ladies bring the FDA down upon the entire cosmetics industry.
Based on Ms. Lindy Woodhead's book "War Paint" and Ms. Ann Carol Grossman and Mr. Arnie Reisman's documentary "The Powder & the Glory", Mr. Doug Wright's book for WAR PAINT clearly had to deal with an embarrassment of riches. It was a brave decision to focus on the ladies at their best and follow their paths to becoming obsolete relics in the fields that they had created, but the audience ends up being told about the things that make and drive Miss Arden and Mme. Rubinstein, rather than being shown what happened. True, there are quite a few interesting scenes, such as Harry Fleming showing Mme. Rubinstein how her face crème can be marketed in different ways or Miss Arden's rejection of Revlon founder Charles Revson while she inspires his young lady assistant, but the actions are a double course of the characters: 
Being successful at any cost.

Making decisions that alienate the men in their lives because they are women.

Wondering what that horrible woman at the other company is doing.

Scheming how to get ahead of that horrible woman at the other company.
 None of these are bad story points by any means, but as they are currently presented they are easily topped by the more intriguing references of prior events – Mme. Rubinstein leaving Poland for Australia to escape an arranged marriage or Miss Arden's being born as Florence Nightingale Graham, etc. Instead of fully focusing on how their climb has made them who they are, we see these ladies spend much of their time pushing concoctions on a credulous public, aggravating men and playing dirty tricks on one another. While this still provides Act Two with a solid basis to tell the story, it also leaves Act Two to do the work of pulling the audience in: Both ladies may be outsiders who aspire to an American Dream they are not allowed to be a part of, but there is little reason in Act One to care for either of them.
The cast is really great and work so very hard to make the most of WAR PAINT.
Ms. Christine Ebersole is amazing as Miss Elizabeth Arden, the lady who longs for acceptance into the highest social circles, but who has worked too hard to ever leave behind the days when she mixed up the face lotions herself. Even in Act One she has some magical moments such as her performance of the number "Better Yourself" which is sung to a young lady who also has business aspirations, but it is in Act Two where Ms. Ebersole shines, becoming downright heartbreaking in the angry self-review of her career "Pink". We feel for this Elizabeth Arden who is appalled by the world that seems to be turning cheap and inferior while remaining as unwelcoming as ever.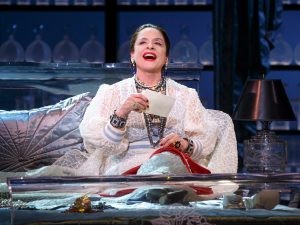 As Miss Arden's nemesis, Ms. Patti LuPone brilliantly creates a fierce and dominating Helena Rubinstein who has never left her past, in part because she knows that no one else will let her forget who she is: a Jew and a woman. She too must battle to keep ahead and she feels that every cosmetic advance she can create is hers and hers alone even if she hires the brightest people to help market her products. There are times when Ms. LuPone's take on her character's Polish/Yiddish accent (by way of Australia, London and Paris) defeats her intelligibility, but all vocal confusions are forgiven whenever Ms. LuPone lands a number. In the End of Act Two, Helena sings "Forever Beautiful", a number about trying to stop time with art that could have easily been a tribute to a woman's self-absorption and mania as a collector of her own portraits, but Ms. LuPone makes it a touching appreciation of a woman who is facing the end of her life without any of the consolations of love and family.
Tommy Lewis is the husband of Miss Elizabeth Arden. He is a very talented businessman and gives much to his wife's enterprise, but resents being Mr. Elizabeth Arden. Harry Fleming begins as Mme. Rubinstein's brilliant marketing and advertising man who is treated like a son and soon enough discovers some of the reasons Mme. Rubinstein's male family members keep a good distance from her. Mr. John Dosetti's Tommy Lewis is excellent as the husband who feels more and more out of place in his wife's world.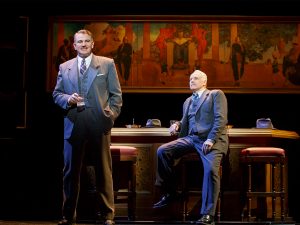 Similarly, Mr. Douglas Sills gives an admirable performance as Harry Fleming, a man who thinks he deserves more credit than Madame will give anyone. There is humor and much pathos in the fact that these two individuals can be so interchangeable in the lives of Mme. Rubinstein and Miss Arden that when they end up leaving these ladies both gentlemen merely switch bosses and much continues as before (which makes one wonder how intelligent Lewis and Fleming really are if they think the other lady would give them any more recognition – but who am I to quibble with a reality that does make for a darned good plot twist?). When watching Messrs. John Dosetti and Douglas Sills play these roles so expertly, I just kept imagining Director Michael Greif saying "You are the embodiment of all the emasculated men in the lives of these ladies." A surprising highlight was their number "Dinosaurs" sung by the gentlemen at the end of their careers as they see their bosses and their companies being left behind by the youth culture and changes in fashion. Of course, after some of the really bad advice they both give their bosses in Act One (which brings on the FDA) I wondered why anyone would keep listening to them.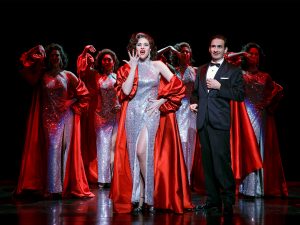 Mr. Erk Liberman's Charles Revson is fine as a determined though unpolished male parallel to Miss Arden and Mme. Rubinstein and Ms. Steffanie Leigh is memorably eye-catching as Dorian Leigh. They also perform other people in the in the world of our two Ladies as do the rest of the superb company: Most notably Ms. Mary Ernster who summons up the best of Helen Hokinson's Dowager cartoons from the New Yorker.
 Director Michael Greif clearly understands the importance of Act Two because he could have easily introduced an element of camp into Act One which might have made it more enjoyable (indeed it begs for camp) but that would have hurt the Second Act. Instead, regardless of its flaws, Act One is consistent with Act Two which gives the decline from greatness far more grounding. Mr. Greif also shows skill in how he deftly handles two lead characters who are constantly on the same stage yet cannot acknowledge each other's presence. This makes for a wonderful payoff in certain scenes, especially at the end of the show.
Unfortunately he too cannot overcome the snags of Act One nor the problems with some of the numbers.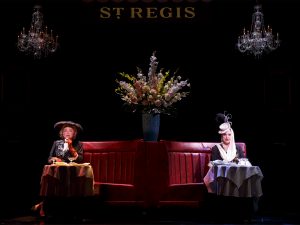 Elizabeth and Helena exhibit a dignity and maturity that does not allow for much in the way of high kicks and twirls, so Choreographer Christopher Gattelli makes them the center of a world that dances around them, creating some very imaginative numbers such as "Best Face Forward" an overview of how cosmetics can affect a woman's world and "Step on Out" where Tommy Lewis and Harry Fleming both have a night out to blow off steam in their different (yet similar) ways.
Mr. Lawrence Yurman ably conducts Mr. Bruce Coughlin's standard Broadway house orchestrations of Mr. Scott Frankel's Music and Mr. Michael Korie's lyrics. This makes for some songs that show off Mss. LuPone and Ebersol to their best advantage, and lay out the situations quite well. But besides the funny, self-pitying "Dinosaurs" and the angry "Pink" the tunes seemed to vanish from memory. The scenes were there, but not the numbers themselves. Additionally, certain pieces made very important points but didn't know when to stop. "Now You Know" is Helena's musing upon overhearing Elizabeth having one of her greatest disappointments right after Helena herself has been reminded that as a Jew she is still sometimes unwelcome. It is a sincere and sympathetic song that underscores their outsider status and similarity but kept on long after its message was delivered. Similarly the Revlon TV commercial "Fire and Ice" begins as the ideal contrast between the changing world of the 1950's and the ideals of Elizabeth and Helena, but since it is also out to evoke the banalities of a television ad, this 60 second spot goes on for at least five or more minutes more than necessary as if the producers were determined to get their money's worth of the gowns and mirror sets.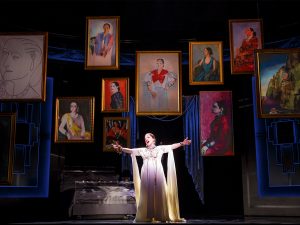 Admittedly, the sets and costumes are well worth showing off. Mr. David Corin has come up with some striking scenic designs that range from the beautiful salon backdrop of frosted geometric bottles and jars on row after row of illuminated shelves to the simple yet effective TV studio mirrors for the "Fire and Ice" number and the sedate St. Regis restaurant where people can be heard and not seen. Mr. Kevin Posner lights up each scene with great care allowing moments to successfully transition in a cinematic way and enables intimate scenes to flow easily into public displays.
The look of the people onstage is just as outstanding. Ms. Catherin Zuber's exceptional costumes capture each period from the 1930's to the 1960's and Ms. Angelina Avallone's makeup designs and Mr. David Brian Browns' wigs are superb, making Ms. Ebersole a feminine vision of pink determination and giving Ms. LuPone the perfect look of Helena Rubinstein down to her the unforgettable jet black hair.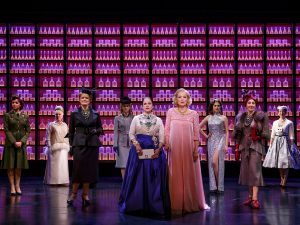 Mr. Brian Ronan's sound system works admirably, assisting the performers on stage instead of taking over for them.
Overall, the stage work is truly top notch and the high caliber of the performances alone could have done much to make a reasonably good show become a must-see treat for the audience. But all the effort given to WAR PAINT is sadly defeated by a weak first act and an often unremarkable score.
NEDERLANDER THEATRE
208 West 41st St
Between 7th & 8th Ave
BOOK BY DOUG WRIGHT ~ MUSIC BY SCOTT FRANKEL ~ LYRICS BY MICHAEL KORIE
ALSO STARRING JOHN DOSSETT AND DOUGLAS SILLS
CHOREOGRAPHED BY CHRISTOPHER GATTELLI
DIRECTED BY MICHAEL GREIF
NEW BLOCK OF TICKETS AVAILABLE SOON!
BUY TICKETS
About the reviewer:

MOSHE BLOXENHEIM
I am a computer programmer, wannabe writer who loves theater and just got into the habit of inflicting my theatrical opinions.
I live in New York. Moshe can be reached at MB1224@aol.com
###########
* * * * * * * * * * * * * * * * * * * * * * * * * * * * * * * * * Brought to you by the NEW
www.broadwaykingdom.com
For more info on Elli -- The King of Broadway
www.thekingofbroadway.com
Facebook
|
Twitter
|
IMdB
|
Actors Access
For more interviews & reviews go to
www.broadwaykingdom.com
* * * * * * * * * * * * * * * * * * * * * * * * * * * * * * * * *