We'll Take Manhattan
A review of Encores! concert reconstruction of
Cole Porter's

THE NEW YORKERS
At New York City Center
March 22, 2017

by Moshe Bloxenheim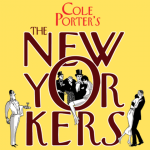 THE NEW YORKERS originally featured specialty acts, material built around Mr. Jimmy Durante's unique personality and took a very amused look at the world of Park Avenue Society, Gangsters and Prohibition, making no bones about the fact that this was not a show for "The Little Old Lady from Dubuque" though I daresay she might have had a whale of a time too. Encores! manages in a case of sheer theatrical chutzpah to piece together a fine entertainment that gives an impression of the enjoyment that was to be found in the original 1930 show even if an accurate reconstruction is not in cards.
Mr. Cole Porter's score alone is well worth the price of admission. Admittedly many numbers are hits imported from other shows, but they seem to make themselves perfectly at home sometimes showing up in surprisingly adroit ways. Mr. Jack Viertel assists in this with a concert adaptation of Mr. Herbert Fields original book that allows the plot to entertain and move the show onward without ever forgetting that the songs come first.
The gangsters, good time girls, vapid socialites, adulterers, hoofers, gigolos, prisoners and so on that inhabit THE NEW YORKERS are all likeable and occasionally endearing and make the most of whatever story had first been furnished by Mr. E. Ray Goetz and the famous New Yorker Magazine cartoonist, Mr. Peter Arno: Alice Wentworth, a pretty socialite, is engaged to marry the stodgy, wealthy and reputable Phillip Booster. She expects her marriage to be like that of her parents, Dr. Windham and Mrs. Gloria Wentworth. The Doctor is the swain of the entertainer Lola McGee and the famous inventor of the pick-me-up drug Alcodol while Gloria has Captain Hillary Trask as her special pick-me-up. When the handsome young Captain goes off with Lola, the Doctor and Gloria are rather nonplussed to have to go home together. All plans for a similar life with fiancé Phillip go out the window the moment Alice meets the dashing speakeasy owner Al Spanish. Al and Alice are quite smitten and, for good measure, Philip falls hard for Al's girlfriend, the singer Mona Low. Unfortunately, complications arrive in the guise of Feet McGeegan, who wants Al to keep out of the Caviar Racket (as if rum-sunning wasn't hazardous enough). Merry mayhem ensues with some frequency and lots of great music and dancing. Through it all comedian and drink Inventor supreme Jimmie Deegan struts his stuff, the Three Girl Friends Trio and the Varsity Eight chorus sound and look stunning, and jokes about prohibition, politics, society, prison and Cole Porter references are tossed in with happy abandon. Oh yeah – it all ends right.
Delightful Ms. Scarlett Strallen ensures that Alice Wentworth is no mere pretty face, making the most of the character's savvy naiveté and getting her some wonderful laughs in Alice's discovery of Real Life (in the form of Al Spanish). Ms. Strallen can also deliver a song with the best of them making the well-known "Most Gentlemen Don't Like Love" and "Night and Day" just two of the many high points of a very well scored evening.
Anti-antihero Al Spanish may be a gun-toting gangster but Mr. Tam Mutu makes him the perfect gentleman from the wrong side of the tracks. He exhibits a sort of Gee Whiz quality that makes him the good guy even as he guns down his rivals. Mr. Mutu has an ability to put a number over that looks downright effortless and yet so enjoyable.
Usually a musical has one main lead couple and one subplot. But THE NEW YORKERS delivers far more.
Ms. Mylinda Hull gives a wonderful performance as Mona Low. Mona may be losing her Al to Alice but Ms. Hull can make one quite believe that this torch singer knows how to set the stolid Phillip Booster on fire and Mr. Todd Buonopane's Phillip is a hoot as he transforms from Alice's burden to Mona's pleasure.
Alice's parents are the second couple as they discover that although infidelity is lots of fun, it is always nice to come home to one another. Dr. Windham Wentworth is one of those urbane if slightly vague men-about-town and Byron Jennings plays him with fine understatement. Ms. Ruth Williamson makes Gloria Wentworth a fine contrast to the good Doctor, giving us a woman-about-town who might like home better. Her delicious delivery of "The Physician" comes across is the complaint of a lady who feels a bit ashamed that she much prefers her husband to her boyfriend – if he would only give her a glance!
Then there is Lola McGee and Captain Hillary Trask. These two may not end up together living happily ever after, but Ms. Robyn Hurder and Mr. Tyler Lansing Weaks ensure that they and the audience have a good time for the present. When Ms. Hurder delivers "Please Don't Make Me Be Good" it is clear that she already is.
Then there is Mr. Kevin Chamberlain in the role of Jimmy Deegan – the comic mixologist. Just the knowledge that Mr. Jimmy Durante originated the part makes his memory a hard act to follow. Still, Mr. Chamberlain makes Jimmy Deegan truly funny and gets the best out of the silly dialogue, yet he is able to add enough Durante mannerisms to make us see how Mr. Durante might have laid them in the aisles in 1930 just as Mr. Chamberlain proceeds to do in 2017. His Act One closer "Wood" is an example of how great absurd comedy can really last.
Aiding and abetting Mr. Chamberlain are his two comic and dancing sidekicks Monahan and Gregory, played with gleeful skill by Messrs. Clyde Alves and Jeffery Schecter.
While Jimmy Deegan is a unique comedy turn all by himself, there are several other specialty acts that deserve much praise:
The Gangster Feet McGeegan is the villain of the show in the mold of Snidely Whiplash or Witch Hazel. So naturally as one of those characters who deserves killing, THE NEW YORKERS obliges, having Feet coming to an untoward end over and over and over again. Mr. Arnie Burton manages to give him just the right level of cartoonish melodrama proving that death may be easy and comedy is hard but comic death is an art all its own. As an added highlight, Mr. Burton stops the show with the brilliant patter number "Let's Not Talk About Love".
Other musical delights include the trio of Mss. Christine DiGiallonardo, Lindsay Roberts and Kathryn McCreary as the Three Girl Friends and the Varsity Eight in the guise of Messrs. Matt Bauman, Sam Bolen, Brian Flores, Matthew Griffin, Curtis Holland, Timothy McDevitt, Brendon Stimson and Cody Williams, who recreate the numbers originated by the megaphone-wielding Waring Pennsylvanians.
Many of these performers double up in several roles but Mr. Eddie Korbich laudably wins the multiple casting honors as he appears and reappears as a doctor, a nightclub major domo, a waiter at a deli, a policeman, a butler…
The rest of the company deserve top marks for their acting and dancing, but even with the wealth of pleasure offered onstage, one performer still stands out indelibly: Ms. Cyrille Aimée delivers "Love for Sale" on an empty stage without any introduction and brings down the house. This lonely, haunting performance on its own would have made THE NEW YORKERS worth seeing.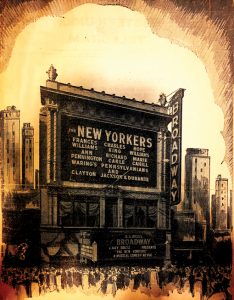 Director John Rando has no trouble with the fact that THE NEW YORKERS is a series of songs with barely enough plot to keep the show from being designated a revue or vaudeville (not that there would be a problem with either one). But Mr. Rando ensures that even with all the numbers being launched in so many ways by different people and acts that everyone gets to shine and nothing ever clashes so that the show buckets along engagingly to its loopy conclusion (the memorable "I Happen To Like New York" chorale). Mr. Chris Bailey's choreography has a lot to do with this because so much movement and dancing carry THE NEW YORKERS forward. A gangster battle where the machine gun fire is enacted by tap-dance emphasizes the period, plot and cartoonish nature of the show since the assailants and their would-be targets just keep happily tapping and firing. More than that, the specialties are clearly staged to make the most of the talents involved yet invoke their predecessors in the roles. In fact, where many songs have at least a line to cue them in, Messrs. Rando and Viertel know that sometimes a song should be left to fend for itself and ensure that a moment like Ms. Cyrille Aimée's singing of "Love for Sale" stands alone as the jewel of the show as the original piece did in 1930.
This care with THE NEW YORKERS songs and music is obviously shared by the Rob Berman and the Encores! Orchestra. Mr. Berman's arrangements and conducting and Messrs. Josh Clayton's and Larry Moore's orchestrations are out to get the best of musicians and actors and all deliver beautifully. Even when a number is an import from another show and of a slightly different style (like "The Physician" from the English show NYMPH ERRANT), it just seems to be a natural fit in THE NEW YORKERS. Certainly it would have been braver and wiser for the show to have selected more obscure pieces from Mr. Porter's songbook and give them the currency they may deserve but I enjoyed myself too much to quibble with what is on offer.
The look of the show is also quite striking with designs that appear as an idealized 1930. Thanks to Mr. Allen Moyer's scenery and Mr. Alejo Vietti's costumes one can see glitz and glamor even in Sing-Sing prison and Mr. Ken Billingtons's top-notch lighting makes even the shimmering reflections of the ladies' lamé gowns become part of the visual pleasure.
I was a little surprised at the unevenness of Mr. Dan Moses Scheier's sound system, but besides a few aural fades in Act One, everything sounded pretty good, upholding the illusion that you could hear the voices from the actors rather than the loudspeakers.
THE NEW YORKERS is a loving and varicolored bouquet to the people, foibles and theater of that 1930's city but it still has an enchanting effect in today's Empire City as well. As with all first public Encores! performances there was a slightly tentative feeling as the performers gauged how the material was landing, but all went wonderfully well and I am sure that the future performances will only get better and even funnier.
Encores! final Performance of THE NEW YORKERS was 7 PM Sunday Night, March 26, 2017.
About the reviewer:
MOSHE BLOXENHEIM
I am a computer programmer, wannabe writer who loves theater and just got into the habit of inflicting my theatrical opinions.
I live in New York. Moshe can be reached at MB1224@aol.com
* * * * * * * * * * * * * * * * * * * * * * * * * * * * * * * * * Brought to you by the NEW
www.broadwaykingdom.com
For more info on Elli -- The King of Broadway
www.thekingofbroadway.com
Facebook
|
Twitter
|
IMdB
|
Actors Access
For more interviews & reviews go to
www.broadwaykingdom.com
* * * * * * * * * * * * * * * * * * * * * * * * * * * * * * * * *