FOR IMMEDIATE RELEASE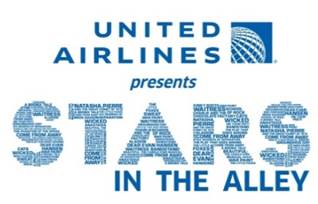 STARS IN THE ALLEY®PERFORMERS
& SOCIAL MEDIA HOST ANNOUNCED!
BRANDON URANOWITZ
2017 Tony Award® Nominee for Falsettos
@BranUran on Instagram
TO BE STARS IN THE ALLEY
SOCIAL MEDIA CORRESPONDENT
#StarsInTheAlley
RAIN OR SHINE!
Free Outdoor Broadway Concert
In Legendary Shubert Alley
Featuring Musical Performances and Appearances
From Over 20 Broadway Shows!
PRODUCED BY THE BROADWAY LEAGUE
SPONSORED BY UNITED AIRLINES
New York, NY – May 25, 2017 – STARS IN THE ALLEY® is proud to announce that 2017 Tony Award® Nominee for Falsettos Brandon Uranowitz will serve as social media correspondent for the 2017 concert. He will be on hand to cover the event live on Twitter and on Instagram bringing fans both exclusive backstage access and a unique perspective on all that's happening on stage and in the audience this year.
The end of season celebration will also include scheduled appearances by even more 2017 Tony Award nominated performers including:Jenn Colella (Come From Away), Rachel Bay Jones (Dear Evan Hansen), Dave Malloy(Natasha, Pierre & The Great Comet of 1812),John Douglas Thompson and Ruben Santiago-Hudson (August Wilson's Jitney), Richard Thomas (The Little Foxes), Eva Noblezada (Miss Saigon), Corey Hawkins (Six Degrees of Separation), Johanna Day and Michelle Wilson (Sweat) as well as performances from 2017 Tony Award-nominated musicals including: Anastasia,Bandstand, Come From Away, Dear Evan Hansen, Groundhog Day the Musical, Miss Saigon, and Natasha, Pierre & The Great Comet of 1812.
STARS IN THE ALLEY will take place on Friday, June 2nd at 1:00pm in Broadway's legendary Shubert Alley, west of Seventh Avenue between 44th & 45th streets. The free outdoor concert with live music, produced by the Broadway League and sponsored by United Airlines, celebrates the end of the 2016-2017 Broadway season and adds to the festivities leading up to the 2017 Tony Awards. The event will consist of performances from over 20 musicals, including shows from this past season as well as numbers from current long-running shows, all accompanied by a 12-piece live orchestra.
PARTICIPATING MUSICALS* INCLUDE:
Aladdin, Anastasia, Bandstand, Beautiful: The Carole King Musical, A Bronx Tale,Cats,
Charlie and the Chocolate Factory, Chicago,Come From Away, Dear Evan Hansen,
Groundhog Day the Musical, Kinky Boots,Miss Saigon, Natasha, Pierre & the Great Comet of 1812,
On Your Feet! The Story of Emilio and Gloria Estefan, The Phantom of the Opera,
School of Rock – The Musical, Sunset Boulevard, Waitress, Wicked
WITH ADDITIONAL APPEARANCES* FROM:
August Wilson's Jitney, The Little Foxes,The Play That Goes Wrong, 
Present Laughter, Six Degrees of Separation, Sweat, War Paint
INCLUDING PERFORMANCES OR APPEARANCES BY*:
Christy Altomare, Alistair Brammer, Nick Cordero, Trista Dollison, Barrett Doss, John Dossett, 
Ali Ewoldt, Christopher Fitzgerald, Alyssa Fox, J. Harrsion Ghee, Alan H. Green, Ellen Harvey, 
John Benjamin Hickey, Caitlin Houlahan, Rodney Ingram, Allison Janney, Telly Leung,
Kristolyn Lloyd, Bianca MarroquÍn, Tedra Millan, Sean Montgomery, Abby Mueller,
Laura Osnes, Mamie Parris, Will Roland, Charlie Russell, AthanSporek, Douglas Sills, 
Ana Villafañe, Michelle Wilson, Michael Xavier, Nancy Zamit
*(subject to change)
For more details about STARS IN THE ALLEY or for Broadway information in NYC as well as for shows on tour across North America and internationally, visit Broadway.org.
The concert will come just nine days before the American Theatre Wing's 71st Annual Tony Awards. The ceremony will air on the CBS Television Network on Sunday, June 11, 2017 (8:00-11:00 PM, ET/delayed PT) live from Radio City Music Hall in New York City, hosted by Tony Award-winner Kevin Spacey. The Tony Awards, which honor theatre professionals for distinguished achievement on Broadway, have been broadcast on CBS since 1978. The Tony Awards are presented by The Broadway League and the American Theatre Wing.  
For more information on the Tony Awards, visitTonyAwards.com andFacebook.com/TheTonyAwards and follow @TheTonyAwards on Instagram and Twitter.
The event is produced by The Broadway League. United Airlines is the title sponsor of Stars in the Alley® and is the official airline of The Broadway League and the Tony Awards. Live music sponsored by The Recording Industry's Music Performance Trust Fund and The Film Funds. The official hospitality partner is Junior's Restaurant. The official media partner is The New York Times. Additional support is provided by The Shubert Organization and SL Green Realty Corporation.
# # #
UNITED AIRLINES and UNITED EXPRESS operate approximately 4,500 flights a day to 337 airports across five continents. In 2016, United and United Express operated more than 1.6 million flights carrying more than 143 million customers. United is proud to have the world's most comprehensive route network, including U.S. mainland hubs in Chicago, Denver, Houston, Los Angeles, New York/Newark, San Francisco and Washington, D.C. United operates 743 mainline aircraft and the airline's United Express partners operate 478 regional aircraft. The airline is a founding member of Star Alliance, which provides service to 190 countries via 28 member airlines. For more information, visit united.com, follow @United on Twitter or connect on Facebook. The common stock of United's parent, United Continental Holdings, Inc., is traded on the NYSE under the symbol "UAL".
THE MUSIC PERFORMANCE TRUST FUND (MPTF) was established in 1948 as a nonprofit independent public service organization whose mission includes contributing to the public knowledge and appreciation of music, as well as making music a part of every child's life experience. Headquartered in New York City, the tax-exempt MPTF, operating under section 501(c) 3 of the Internal Revenue Code, evolved from a landmark collective bargaining agreement between the American Federation of Musicians and the major recording companies of the day. Today the MPTF is a vital organization that brings music to the public and supplements the income of musicians, all at no cost to those receiving this precious gift of music.
THE BROADWAY LEAGUE (Charlotte St. Martin, President), founded in 1930, is the national trade association for the Broadway industry. The League's 700-plus members include theatre owners and operators, producers, presenters, and general managers who present in nearly 200 markets in North America. Each year, League members bring Broadway to nearly 30 million people in New York and on tour across the U.S. and Canada. The Broadway League has recently added a new category for International membership to collaborate with professionals from around the world who produce and present Broadway quality theatre. The Broadway League annually co-presents the Antoinette Perry "Tony" Awards®, one of the most coveted awards in the entertainment industry.
Key League programs and resources include: Kids' Night on Broadway®, The National High School Musical Theatre Awards™ (The Jimmys®), Stars in the Alley®, Internet Broadway Database® (ibdb.com), Broadway.org, SpotlightonBroadway.com, BwayZone.com, Commercial Theater Institute (with Theatre Development Fund), as well as numerous conferences and forums for our members. TheatreAccessNYC (co-produced with TDF) is the one-stop website of accessible Broadway performances for theatregoers with disabilities. Broadway.org is the League's official on-line headquarters for Broadway in NYC, on tour, and internationally. 
For more information visit BroadwayLeague.com, or follow @TheBwayLeague on Twitter and visit us at Facebook.com/BroadwayLeague. Download the free Broadway.org and IBDB mobile apps from the iTunes App Store or Google Play.
Broadway theatres are filled with an exciting array of new and classic musicals and plays, providing the perfect experience for every audience. Great seats are available at every price point and are easy to buy online, by phone, or in person at theatre box offices. It's always the perfect time to see a show. Broadway performs every day of the week at multiple curtain times to accommodate every schedule.
PHOTOS: Download Link
Contact:
Martine Sainvil, msainvil@broadway.org, 212-703-0231
* * * * * * * * * * * * * * * * * * * * * * * * * * * * * * * * * Brought to you by the NEW
www.broadwaykingdom.com
For more info on Elli -- The King of Broadway
www.thekingofbroadway.com
Facebook
|
Twitter
|
IMdB
|
Actors Access
For more interviews & reviews go to
www.broadwaykingdom.com
* * * * * * * * * * * * * * * * * * * * * * * * * * * * * * * * *