Miss Coco Peru Is Still Alive!
Laurie Beechman Theater – November 7, 2010 – 7:30 pm
By Elli – The King Of Broadway
HEADLINE: "DRAG QUEEN FROM THE BRONX ABDUCTED BY ALIENS LIVES TO TELL THE TALE!"
Sounds fantastic, right? I'll get to that soon. In the meantime, I don't want to spoil the show by telling you all the jokes. What I will tell you is that this show is not what you are expecting.
Miss Coco Peru Is Still Alive! is so much more than a stand-up comedy routine replete with musical numbers, sound effects, specialty lighting, visual aids and copious monologues, and to my delight, the show has heart.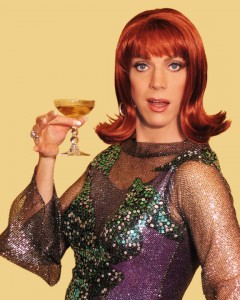 This autobiographical Cabaret performance is definitely a one person show of the quality found lately on Broadway. Coco Peru is now the ultimate storyteller. Retelling the story of growing up 'different' on City Island in the Bronx, Miss Coco's story is at once funny and heartwarming, happy and sad, and several times I was moved to tears only to be laughing uncontrollably moments later. Coco Peru also displays quite a vocal range as a singer, something I had not known before. The songs (Barry Manilow of course) are blended into the story as if this were a Jukebox Musical like Mama Mia.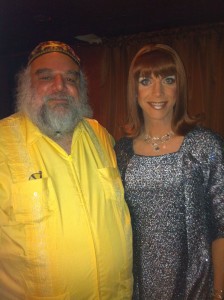 "Not quite as famous as RuPaul," as Miss Coco says in the show, I first became a fan when I saw her in the movie, Trick and fell in love with her all over again on Logo TV's "One Night Stand Up." Whether you are a fan of old, or have never heard of this fabulous artist, chances are you'll fall in love with Miss Coco soon after the show begins.
Oh, and the abduction? "That's a very long story, and Coco Peru is going to tell it to you… all in just a little over an hour", when you attend Miss Coco Peru Is Still Alive! at the Laurie Beechman Theatre.
Storyteller/monologist Miss Coco Peru (aka Clinton  Leupp) grew up in the Bronx on City Island and got his/her start as a downtown favorite in the cabaret world of NYC after she wrote, produced, directed, and starred in her first show Miss Coco Peru in My Goddamn Cabaret in the early 90's. On screen Miss Coco is best known for her roles in Jim Fall's Fineline feature film, Trick (Sundance 1999) and Richard Day's IFC feature length comedy Girls Will Be Girls. Coco also has her very own half- hour Logo TV comedy special taped as part of the "Wisecrack" series. The episode airs regularly and is available on iTunes.
Originally directed for the theater by Michael Schrialli, Miss Coco Peru Is Still Alive! continues its run November 12-14, Friday-Sunday at 7:30pm at the Laurie Beechman Theatre, inside West Bank Cafe at 407 West 42nd Street — at Ninth Avenue.
Tickets are $20 with a $15 food/drink minimum per person, available at www.SpinCycleNYC.com or by calling 212-352-3101.
For complete info about the reviewer, please go to www.thekingofbroadway.com and follow on twitter/tkob
* * * * * * * * * * * * * * * * * * * * * * * * * * * * * * * * * Brought to you by the NEW
www.broadwaykingdom.com
For more info on Elli -- The King of Broadway
www.thekingofbroadway.com
Facebook
|
Twitter
|
IMdB
|
Actors Access
For more interviews & reviews go to
www.broadwaykingdom.com
* * * * * * * * * * * * * * * * * * * * * * * * * * * * * * * * *